In need of motivation? Look no further. Below are seven millennials, all under 25, who are making moves and creating names for themselves in different industries including gaming and finance. All are included on Forbes "30 under 30" 2015.
1. Ted Gonder, 24 Cofounder of MoneyThink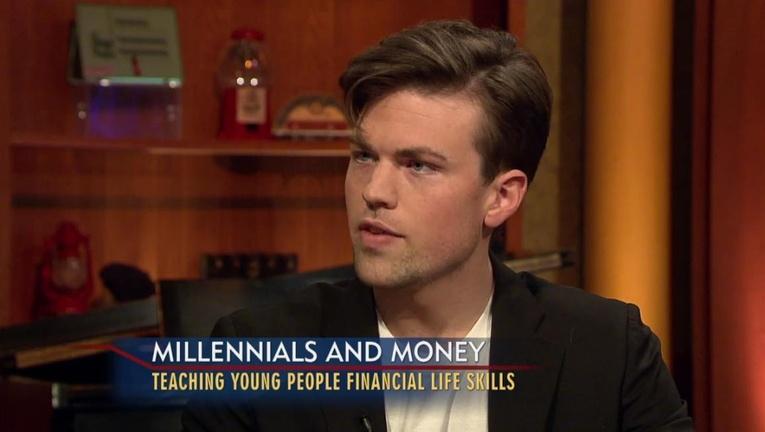 He describes his company as "the only movement of young people working to restore the economic health of the United States through preventative, transformative, and evidence-driven financial education." While many people his age are just starting to fill their resumes, Gonder boasts to having already mentored over 10,000 teens around the world. He is the youngest member of the President's Advisory Council on Financial Capability for Young Americans, where big shots like Visa CEO Charles Scharf also serve. No big deal.
2. Andy Fang and Stanley Tang, both 22 Cofounders of DoorDash
If the name of their company reminds you of the restaurant-themed game, Diner Dash, it should. DoorDash is a startup that the two Stanford graduates (C/O of 2014!) cofounded with two other students, and it hires its own delivery drivers so that restaurants that don't already have an infrastructure set up can offer delivery. Tang's Linkedin page describes DoorDash as a next gen, "on-demand" local delivery. This model may be especially beneficial for small restaurants and businesses, because instead of having to pay a driver hourly even when no delivery is being made, they could simply "order" a driver when an order has been placed. Sounds like a win-win.
3. Kevin Petrovic and Rujul Zaparde, both 20 Cofounders of FlightCar
Are two-words-combined-into-one names the new trend for startups? Anyway, while everyone on this list is exceptional, Petrovich and Zaparde take the cake for being the youngest ever to raise $20 million venture capital for FlightCar. While it's unfortunate that FlightCar isn't a company that makes flying sedans, its premise is just as promising: FlightCar allows travelers to rent out their car from the airport while they are away on vacation. Dropping out of Princeton and Harvard, respectively, the two seem to be following the footsteps of many college dropouts who are now making it big.
4. Elizabeth Beattie, 24 Designer of Titan Arm
A Ph.D. candidate in UPenn's School of Engineering and Applied Science, Beattie designed the Titan Arm, which is an exoskeleton that would give its wearer an additional forty pounds of bicep strength. The product's website, www.titanarm.com, describes it as an "untethered, powered, upper body skeleton," that can be used for rehabilitation and therapeutic application. Beattie cofounded the remarkable device with three other students from the same university.
5. Fatima Zenine Villanueva, 23 Creator of Domus
An independent game designer, Villanueva creates games that encourages its players to help and contribute to its community. Domus is one of her developments, and the game puts you in the shoes of a homeless individual as you navigate the streets of a city that is based on New York. its aim is to let the players get an idea of what its like to be homeless and increase awareness about the issue. Villanueva received an ESA LOFT Video Game Innovation Fellowship for her game. Talk about combining fun and sending a message!
6. Matthew Haag, 22 CEO of Nadeshot, Inc.
Known in the online world as "NaDeSHoT," Haag has successfully married "doing what you love" with "do what makes money." Haag is a popular figure on Youtube for his Call of Duty videos, and he has over 1.6 million subscribers and 155 million total video views. How successful is he, you ask? Haad makes close to a million dollars a year, thanks to his massive fan base and sponsors like Red Bull. Just in 2011, Haad was a McDonald's employee.
7. Veronika Scott, 25 Founder of The Empowerment Plan
Like Villanueva, Veronika Scott also devotes her time to helping the homeless. Her Detroit-based organization, called The Empowerment Plan, hires homeless women from shelters and trains them to become seamstresses. They then make coats that also double as sleeping bags, which are distributed to the homeless for free. Scott's admirable goal of empowering women and helping the homeless have caught the attention of big names like Madonna and Sara Blakely, who are backing the project financially.
---
The seven listed above are just some of the many 20-somethings making waves in their respective industries. Hopefully, their stories and successes inspire you to follow your passions and start that business (or project, nonprofit, experiment, product, etc.) that you've been meaning to start but been holding back. Many people think that those in their 20's are naive and lack experience, which then discourages many from pursuing something big. But as someone who's young and may not have as many responsibilities as their 40-year-old colleagues, you have something that they don't: Time. If there's any perfect time to start, it's now.