Ever wanted to see a New Yorker freak out? Make one walk in the rain. These Big Apple dwellers are some of the most fashionable people in the world with their bespoke suits, polished shoes, and vintage watches. But for some reason, they can't seem to justify investing in a good umbrella. As a result, the rain easily washes away their self-composure as they stand on the sidewalk trying to fix their broken umbrella while trying to hail a cab at the same time.
We've all been there, and it sucks. But you can stop being that guy. Consider shelling out a few more dollars on some well-made umbrellas to avoid looking like a wet puppy in the rain. Here are a few umbrellas that you can brave the rain with:
1. Brooks Brothers Tartan Stick Umbrella – $60
A little fun fact: Designer Ralph Lauren started out as a salesman at the Brooks Brothers store on Madison Avenue. Specializing in classic, all-American style, Brooks Brothers offers preppy apparel and accessories at a price relatively cheaper than other established brands that sell similar designs. Below is Brooks Brother's Tartan Stick Umbrella–an umbrella simple enough to pair with any outfit, but with a look that's still aesthetically pleasing. With a 36″ length (including handle) and a 49″ coverage arc diameter, you're sure to have enough space to stay dry.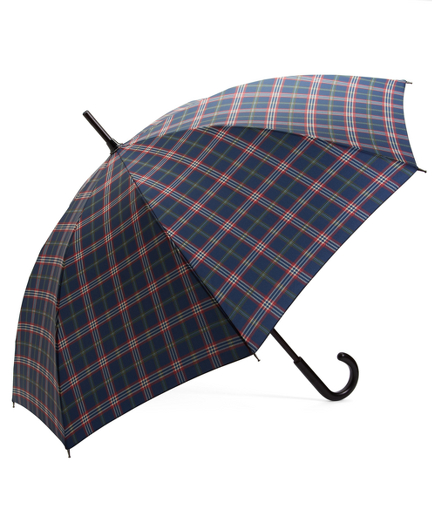 2. Barneys New York Two-tone Umbrella – $295
You know it's good when it's specifically named "New York." Although it costs more than your average umbrella, this Barneys beauty is an Italian-made, 37″ long rain shield that's guaranteed to make your wet commutes less miserable. Its two-tone feature lets it stand out from the crowd of black umbrellas that populate New York, and its availability in three different color pairs gives you the option to pick the one most suitable for your personality. For me, the hunter green/bronze combo, shown below, is the winner.
3. Macy's Totes Auto Wooden Stick Umbrella – $20
If you're in the market for a lower-priced umbrella, then this Macy's product is for you. With a classic black finish, this 48″ canopy offers a timeless look that will never go out of style. If you don't want to blend in too much, then its brown, wooden handle will surely help give it that "pop" you're looking for. Just avoid wearing it with an all-black suit, unless you intend to look like that secret lover hiding behind the trees while wearing shades at a funeral.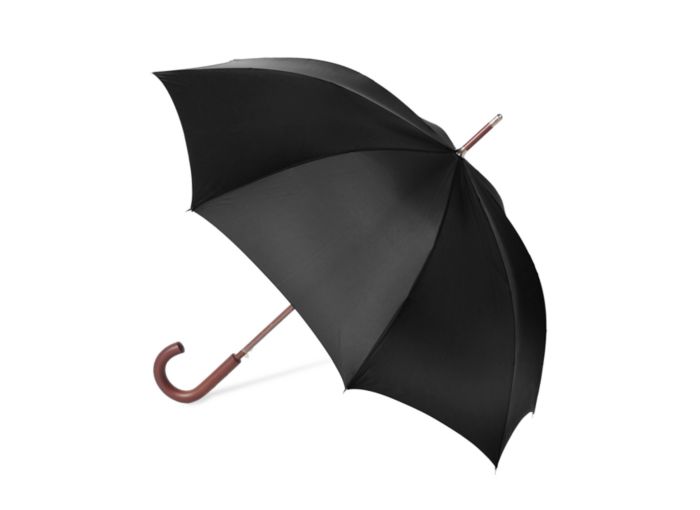 4. Burberry Alligator Handle Walking Umbrella – $1,495
This is personally way out of my price range for umbrellas, but I know I have readers who would be more than happy to cop one of these bad boys. With a handle that's made of 100% alligator leather, this umbrella is more of a fashion statement than as a means to shield yourself from Mother Nature's tears. It's available in two colors–Dark Racing Green and Elderberry (aka brown)–and is most definitely for the man who stays luxurious from head to toe. It's not exactly my cup of tea (and it's probably not PETA's either), but if you are willing and able to keep yourself dry for $1,495, then by all means, do you!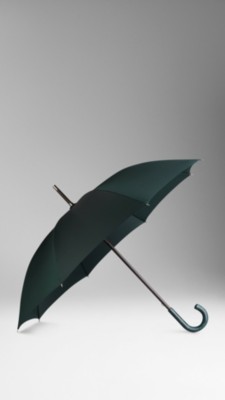 5. London Undercover Navy Pinstripe & Orange Classic Umbrella – $96
New York is not the only one that has it bad when it comes to rain: London's weather is pretty damn notorious too when it comes to making sure its people are drenched. Established in 2008 by designer Jamie Milestone, London Undercover is a British brand that aims to revolutionize how umbrellas are seen and used. At a reasonable £65 (or roughly 96 USD), you can pick up this two-tone umbrella that would add a gothic twist to your rainy day attire. With an outer design resembling that of a navy pinstripe suit, along with an orange interior, this umbrella definitely has its own personality. Its look is completed by the combined maple wood shaft and handle, along with a laser etched London Undercover logo. It's also made using recycled materials, which is a huge plus to some.
---
Many people like the rain, but nobody likes showing up to work looking like he just swam in an Olympic-sized pool to get there. An umbrella is more than just a last-minute accessory; it's designed to be a companion whose sole purpose is to be at your service and keep you dry on rainy days. Treat it as such, and invest in one that will last you years. Skimp on this need by buying a $5 umbrella from your local pharmacy and you'll not only find yourself drenched, but you'll also end up spending way more than you would have if you had just gotten a sturdy one in the first place. Think about it!